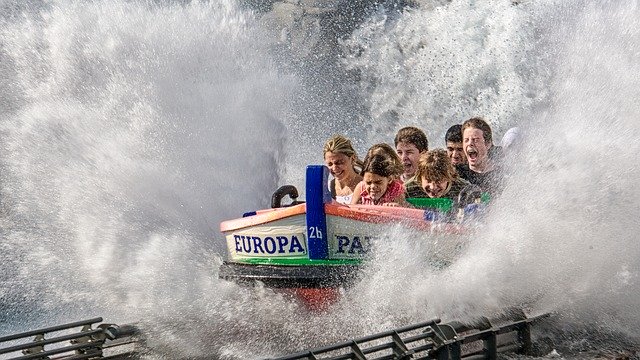 When we consider bout water parks, there are different types of waterparks.such as aqua worlds, various kinds of fish worlds, and so on. From ridiculously sized water parks in Dubai that offers over 30 rides to a tropical oasis in Spain. That's one world's best three times in a row. We check out ten of the most fantastic water parks in the world.
wild wavy
The wild wavy water park Dubai situated in front of the stunning Burj Al Arab. wild lady offers 30 rides and attractions for all the family. The park is themed around the tale of Juha a known character from the Arabian folklore.
A highlight is the wipeouts and riptides flow riders which offers the ultimate surfing experience devised by the Mavericks surf fanatic. Thomas dr.field the wipeouts works by shooting out more than seven tons of water per second in a thin sheet across a moulded foam structure. Producing a realistic wave effect ideal for bodyboarding and kneeboarding number. 
world waterpark

Image is for illustration purpose only. the real park will different than this picture
World water park Canada is located inside West Edmonton in Alberta. The indoor park covers five acres.the Canadian park reaches an aqua loop looping slide the Thunderbolt, sledge slide, simulated surfing and a zip line.
It was open to the public in 1986. It's one of the world's largest indoor water parks. It has a maximum capacity of 5,000 guests an average air temperature of 88 Degrees Fahrenheit.and it contains the world's largest indoor wave pool with a capacity of twelve point three million litres.
water bomb Valley
it features exciting water slides through 3.8 hectares of landscaped, tropical parks.it's Providing hours of fun and entertainment rides. Include the exhilarating pipeline which is perched 20 meters high whisks riders along a twisting, banking tube the extra speedy fast, fierce with two open slides side-by-side, the terrifying climax.
In which riders are held in a small chamber 16 metres above the ground. Before a trapdoor right below opens up and exposes them to the 2.5 g force of speed and a near foot.
Disney's Typhoon – Lagoon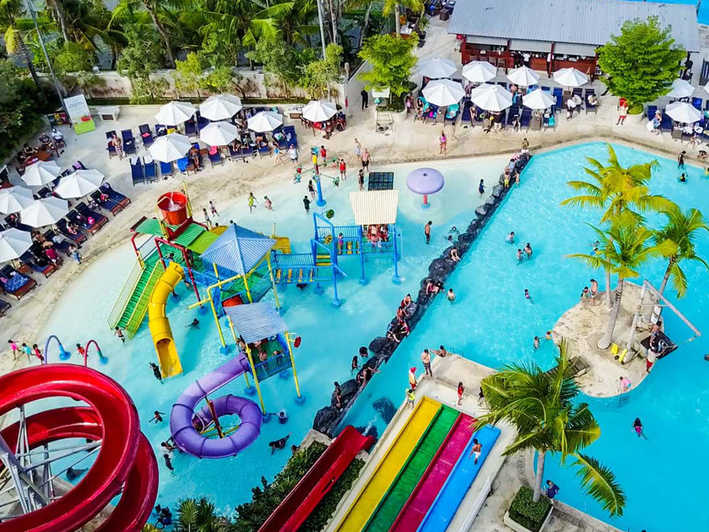 Water park USA Disney's Typhoon Lagoon water park is one of two water parks in Walt Disney's.it had world resort and features attraction for the whole family. From fast water slides to a children's area, with pint-sized rough rides.
Visitors can catch six-foot waves in the surf pool. Also, they can snorkel in the shark reef with real sharks. The crushing gusher has seemed like an abandoned and dilapidated fruit process. Center guests may slide down three different slides. The banana blaster, coconut crusher or pineapple plunger. Which range from 410 to 420 feet in length.
 6.tropical island resort    Germany
Tropical islands resorted is a sultry theme park Witch located in Brandenburg Germany. Its 50 kilometres from the southern boundary of Berlin. The tropical island has a maximum capacity of six thousand visitors per day. in its first year of operation, it attracted nine hundred and seventy-five thousand visitors according to the operators.
The Tanjong company reported 155 lots of visitors in the business, year February 2004 to February 2005. Approximately 500 people work in tropical islands. It definitely ranks among the world's best water parks given its enormous capacity.
Yas Water world Abu Dhabi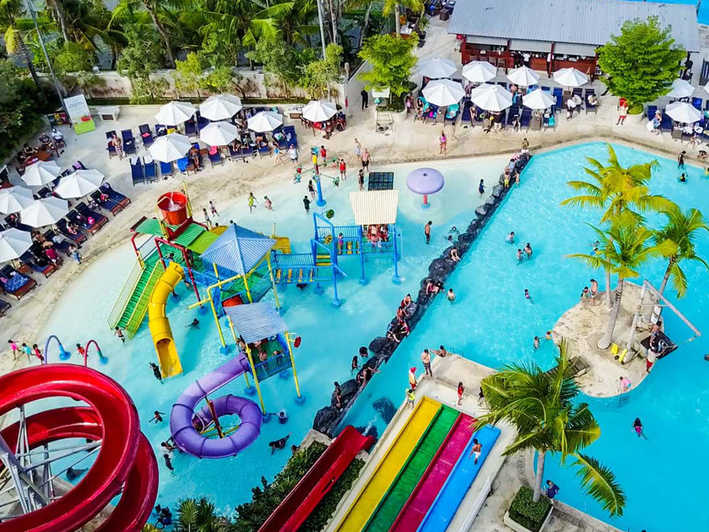 Yas Waterworld Abu Dhabi is the UAE s first mega waterpark. It's set across 15 hectares of the new entertainment complex. That is yad Island the park offers 43 rights slides and attractions. And that will thrill the whole family visitors will experience fun and adventure on rides and attractions that never seen before in water parks. Such as the world's longest fastest tornado waterslide, the region's first looping waterslide, the world's first interactive water and blazer roller coaster.
Beach Park Brazil
Beach Park Brazil's largest water park.it's Includes pools, saunas, ecological walks, artificial Rapids and waterslide which has the height of 14 floors. These waterpark attractions include Treasure Island complete with water cannons. A six-piece artillery wall and lighthouse with a spiral slide for families and chills. in which visitors ride a halfpipe at 90 degrees slope on two-person floats.it's So beautiful and full of to do. Extremely this place is a safe, clean and fun one.
Blizzard Beach water park 
 The action-packed water Wonderland features one of the world's tallest and fastest free-falling water slides. As well as slides and rides for the whole family. Like a kid-sized snow castle fountain, play area with scaled-down versions of the more thrilling attractions.
This year it is following on from the frozen fever, of the Disney hit film a themed event. It is being held as a more adventurous can race against friends on downhill double-dippers .side by side water slice that bring out a competitive streak.
Aquaventure waterpark Bahamas Atlantis

image is for illustration purpose only. the real park will different than this picture
Paradise Island waterpark is one of a kind 141-acre water. Escapes with complimentary admission for overnight guests at Atlantis.this non-stop aquatic thrill ride. Features over 20 million gallons of water. Incredible Atlantis themed Towers thrilling high-speed waterslide, a mile-long river ride with rolling rapids, wave surges 20, swimming areas.
A spectacular kid-friendly water-play fort and 11 unique. Ty he refreshing swimming pools Aquaventure is connected by a lush tropical environment. That is both immersive and interconnected. This waterpark is perfect for all vacationers were they young or old.
1.cm park Spain 
Cm Park is the world's top waterpark for the third year in a row. This water park set against a backdrop of spectacular Thai architecture. With everything from meandering rivers to freefall slides. It's the perfect setting for an epic adventure.
Last year thrilling toboggan ride singer opened in which visitors travel at 18 meters per second .around 240 meters of high-speed curves and change direction 14 times in the jaw-dropping. Tower of Power pictured above riders plunges down an almost vertical 28-meter drop.
So these are the best water parks in the world.these parks bring us pleasure and thrill.dont miss to get this chance and please be safe. Please if you are satisfied with our news comment for the website down.
Did you check the ten most expensive universities in the world or best power banks for you, articles? Click here to find them. Also, do you want to know about tech and lifestyle? This is the best web site for you. Share us on Facebook and give us more joy to write this web site for you. Thank you. Stay awesome.