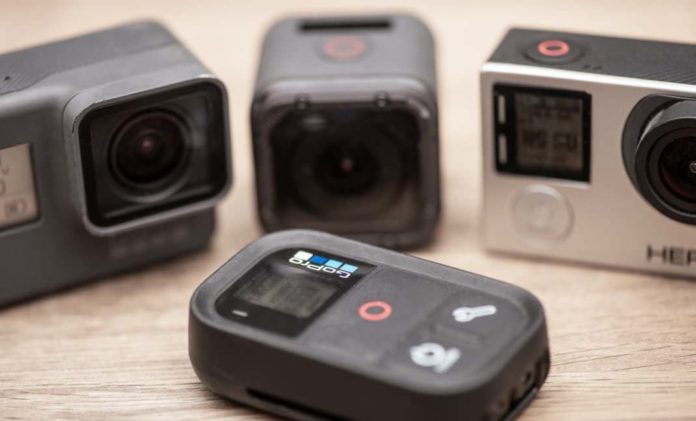 The top 5 best action cameras on the market this year. Like always if we try to include products that could work for someone on a strict budget up to experienced professionals. So whether you're looking for something inexpensive or looking for the professional-grade camera device. We'll have an option for you on this list.
5.GoPro Hero 5 session
 The GoPro Hero 5 session offers an incredibly sharp image. That is perfect for those who want to add a professional look to their videos. It is capable of filming at 30 frames per second with the ability to take 10 megapixels. Still, images priced at just under $200. The hero 5 is a reasonable budget camera that falls short of a standard set by hiring models on the market. The overall image quality isn't as good as the hero six, but it still has some interesting features to offer.
 It has a flap on the side that offers a USB C port as well as a micro SD card slot. This camera measures 1.4 by 1.5 by 1.5 inches with a weight of 4.5 ounces. So it is very compact and lightweight. When you buy, you will also receive a curved adhesive mount mounting buckle, USBC cable, standard frame. And manual its features contain a waterproof design voice control. It can power on and record with the press of a button. It records 4k video and takes 10 megapixel still images. The pros include the GoPro Hero 5 is fairly durable with the water-resistant design.The solid all construction also weighing only 4.5 ounces.
also,
This camera's lightweight design makes it easy to transport and use this camera has a very sleek design that looks very modern and stylish. One con is its short battery life. The non-removable battery in this camera lasts a little bit over two hours. Which isn't great. If you are looking for a cheap action camera, The GoPro Hero 5 session is a decent option to explore.Well, it is our least favourite camera on this list. It does give 4k video resolution and has a good rugged overall design.
 We would have liked to see some GPS capability and longer battery life. But the hero 5 is still decent selection as a whole it is straightforward to use with an intuitive design. That shouldn't present any problems for those who have never used an action camera before. Just don't expect to get the very best of the best.
4.YI 4k action and sports camera
The YI 4k action sports camera comes with a selfie stick and Bluetooth remote. That you can use to capture video and images more accessible. It can record high-quality 4k video at 30 frames per second, 1080p video at 12 frames per second and 720p video at 240 frames per second. This action camera is priced at just under $120, making it one of the more accessible models on the market. Through our various settings that you can improve to your liking containing shutter iso meter Evie, and WB. It uses the Amborella a 9 SC 75 chip. And the latest Sony image sensor the built-in electronic image stabilisation uses 3-axis gyroscope. Three-axis accelerometer to detect changes in motion. And position this cameras built-in cooling system will ensure that it does not overheat even when used for extended periods. 
The mobile app that you can use with this action camera will allow you to edit and share your videos on social media quickly wherever you are. Its features include a variety of resolutions electronic image stabilisation — a high-performance cooling system. The Yi camera app its pros are the LCD Retina touchscreen. On this camera is made of Gorilla Glass, Making it extremely durable and impact resistant. The Highly  Definition a video you can record with this camera looks utterly superb. You can record 4k video for up to two hours, which isn't bad at all. There is one calm we highlighted. 
Also,
This camera has a durable design, but it is only waterproof when used with a case. We were fairly impressed by the new features and high-quality video playback of the Yi 4k action sports camera. It is not inherently water-resistant. the gorilla Glass LCD touchscreen is pretty impressive. It is one of the best sports camera choices for the price. But still not the best. The market has to offer the flexibility of the design of this camera is one of the best things that has going for it. There aren't many other cheap action cameras that provide the same level of customisation like this one.
 3.GoPro Hero 7 silver
The GoPro Hero has a beautiful black and grey finish with a rubberised exterior. That makes it quite sturdy and durable. You can use it up to 33 feet underwater without risk of damage. There is a 2 inch LCD touchscreen on the back with a record
button on top. The menu button is located on the side, offering several options for customisation measuring 1.8 by 2.6 by 1.4 inches and a weight of approximately 4 ounces. This camera is excellent lightweight. It doesn't have an embodiment of any kind. But you do get a case with a standard GoPro mount. While the hero doesn't offer 4k, you can record and smooth HD with 1080p resolution. You can also take 10-megapixel pictures that look pretty sure good.
Overall the image stabilisation makes the simple to take high-quality pictures without much blur or misshaping. It was priced at around $170. The GoPro Hero has quite limited impressive features for such a budget camera. Its highlight features are. The 2-inch touchscreen, it's waterproof up to 33 feet, It has Wi-Fi and Bluetooth capabilities and the voice control. The pros are its durability the rubber exterior and waterproof design of this camera make it very tough and long-lasting. The digital image stabilisation makes it easier than ever for you to take good quality photos. The voice control feature enables you to carry out various functions with basic audio commands easily. And the mobile app that you can use with this camera allows for automatic editing.
Also,
Its cons include there aren't very many framerate or resolution options to choose from, and the absence of exposure control can make taking photos in the daytime. Somewhat cumbersome with all of the great features that the GoPro Hero has to offer. It is undoubtedly one of the best waterproof action cameras within its price range. It is a very affordable option for most people.  The USB charging and data transfer is a great feature as long as you don't require a camera. That is capable of extreme slow motion. This device shouldn't disappoint.
 2. Polaroid cube plus 
The polaroid cube plus has a uniquely efficient design. That is well suited to those who want to document their adventurous lifestyles. It records 1440p resolution at 30 frames per second, 180 P at 60 frames per second and 720p at 120 frames per second. This camera's built-in Wi-Fi capabilities. Allows you to sync up with your Android or iOS devices. So you can share your photos and videos you take as quickly as possible. There are lots of advanced editing options that will help you make your photos look perfect. Before uploading them on social media price at about $150.
This Polaroid action camera comes with a pending case lanyard, 8-gigabyte microSD memory card, micro USB cable and instruction manual. You will get everything you need to begin using this camera immediately. The built-in battery that this camera uses can last for about an hour If you are recording HD video. But it doesn't take long to charge. You can connect it to a standard USB port when you need to charge it. Its features include it takes 8 megapixel still images. It has a built-in rechargeable battery, it has 124° wide-angle lens, and it comes with a free mobile app. The authorities are the clarity and smoothness of the HD video playback is very impressive. This camera weighs only 2.08 ounces making it easy to carry around. And use for hours. 
Also,
The con is the integrated battery in this camera only lasts for a little over 100 minutes. Before requiring charging, you will find that the polaroid cube plus is one of the best action cameras on the while its battery leaves something to be desired. It takes beautiful quality video and photos. There is also a free mobile app that you can use with this camera. That will let you edit your pictures and video before uploading them online. It has a relatively sturdy and straightforward design that makes it tough. But easy to use.
1.GoPro Hero 7 black
 Which we consider the best overall action camera. The GoPro Hero 7 is the direct successor of the hero six black. These cameras 4k video recording capabilities combined with a waterproof design, making it the first device for recording your most awful adventures well. It may look somewhat similar to the previous version. This camera has a modern black finish and several microphones that offer superior audio. One of the leading hardware modifications is the excellent image stabilisation system which is called hyper smooth. There is also a brand new time-lapse effect called time warp. You will have the ability to live stream videos from hero 6 to social media websites like Facebook Through your smartphone. 
The rubberised exterior of this camera is durable. But doesn't offer quite as much grip as. Its predecessor on the sides you will find several buttons that start and stop recording  The eight times slow-motion recording feature. It's instrumental when you want to add a dramatic effect to any of your videos.
Also,
While it records 4k video, it is also very competent at 1080p. You can take 12-megapixel photos that look sharp and accurate priced at just under $400. It is quite a bargain; its features include a come live stream video to social media. It's waterproof up to 33 feet. It has hyper smooth video stabilisation and its voice control capabilities. The pros are its rugged design the rubberised exterior and waterproof design makes this camera very durable. This camera's image stabilisation will help you take smoother and better quality videos and photos. And the improved microphone design on this camera means better overall audio quality with videos. The GoPro Hero 7, It should come as no surprise that we think it is the best camera for video.
The 4k video resolution and incredible stabilisation make it perfect for recording everything from whitewater rafting to extreme mountain biking. This action camera also makes it very easy for you to share your adventures on social media. Either during or afterwards. It is our favourite camera on this list and one of the best options on the market right now. 
So these are the best action camera in the market. If you want to buy one of those, follow the mentioned prices. And don't forget to comment on our website below in this article. also, you can find more cameras and photography content on this site. stay with us.